Free Read
Wichita, 1920s - Jake Mathisen survived the Great War only to return home to find there's little work for a pilot and, worse, the vampires of Europe have been emigrating to the States. Working for bootlegger Toliver Cain means good money, access to a sterling airplane, and enough free hooch that he doesn't have to think too much about the past. Until Cain dispatches him to drive Miss Vera Avery to a vampire house.
The one job that Jake regrets, and the one that Cain uses to keep him close, involved the death of Vera Avery's father. And while Vera plays the wide-eyed ingenue, there's something hard inside of her. Could the blonde with the bright smile be as lethal as the vampires Jake's taking her to face and, if so, what's going to happen when she finds out what Jake's done?
New in Print
A Monster Haven Story, book one
I stopped believing in monsters long ago. But I knew I wasn't imagining things when I found one in my kitchen baking muffins. I'd seen him before: lurking in my closet, scaring the crap out of my five-year-old self. Turns out that was a misunderstanding, and now Maurice needs a place to stay. How could I say no?
After all, I've always been a magnet for the emotionally needy, and not just in my work as a wedding planner. Being able to sense the feelings of others can be a major pain. Don't get me wrong, I like helping people--and non-people. But this ability has turned me into a gourmet feast for an incubus, a demon that feeds off emotional energy. Now, brides are dropping dead all over town, and my home has become a safe house for the supernatural. I must learn to focus my powers and defeat the demon before he snacks on another innocent woman and comes looking for the main course...
Get it today!
**
Sir Merrick Hadrian hunts monsters, both human and supernatural. A Knight of the Order of the Round Table, his use of magick and the technologies of steam power have made him both respected and feared. But his considerable skills are useless in the face of his greatest challenge, guardianship of five unusual children. At a loss, Merrick enlists the aid of a governess.
Miss Caroline Bristol is reluctant to work for a bachelor but she needs a position, and these former street children touch her heart. While she tends to break any mechanical device she touches, it never occurs to her that she might be something more than human. All she knows is that Merrick is the most dangerously attractive man she's ever met—and out of reach for a mere governess.
When conspiracy threatens to blur the distinction between humans and monsters, Caroline and Merrick must join forces, and the fate of humanity hinges upon their combined skills of steam and sorcery...
Get it today!
**
An estranged mate, a mangled body and a powerful demon who calls her by name…
As a Realm Walker for the Agency, Juliana Norris tracks deadly paranormal quarry using her unique ability to see magical signatures. She excels at her job, but her friends worry about her mysterious habit of dying in the line of duty without staying dead. That's only the first of her secrets.
Most people don't know Juliana became the mate of master vampire Thomas Kendrick before he abandoned her seven years ago. Most people don't know the horrors she endured at the hands of the vampire he left in command. Most people don't know her true parentage, or why a demon on a world-threatening rampage has taken a personal interest in her…
Even as Juliana pursues the demon, it goes after all she holds dear—including Thomas, who is back to claim her for his own. But if she can't reconcile her past and learn to trust herself again, she will lose him forever.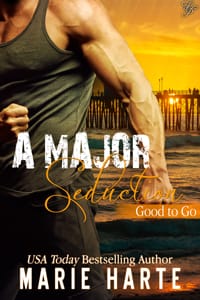 A MAJOR SEDUCTION, book 2 in the Good to Go trilogy
Major Mike Cava has done his best not to see Maria Thompson as anything but his baby sister's best friend. Not an easy feat when Maria's done her best to throw herself at him for years.Except in the two years since he's seen her last, Maria has grown
way up
.But now that he's really seeing her, she isn't seeing him.
Maria spent the past fourteen years mooning over a man who never saw her as anything but a little girl, and she's done. Or so she tries fooling herself. She's twenty-four years old, and it's past time she grew up and over him. But now Mike's giving "those" looks.
With the help of her best friend—Mike's sister—she'll prove she's more than woman enough to handle him. His dominance, his kink in the bedroom, his huge, hot body. But just when she thinks they can make a go of it, he pulls back. She can't do it anymore. Loving, being hurt, loving, being ignored. This time if Mike wants her, he'll have to prove it. She's done.
And he's just realized he might have made the biggest mistake of his life in pushing her away…
Get it today!